High-Performance Building Industry Advisory Council
The Phius Industry Advisory Council (IAC) provides high-performance building component manufacturers an opportunity to join forces to facilitate and shape critical research, gain market intelligence, speed innovation, and expand the high-performance building market.
IAC Background
The passive building industry has come a long, long way in the new millennium. That's due in no small part to visionary and courageous manufacturers who have stepped up to provide the high-performance building components and materials that were previously seen as esoteric, or simply unavailable in the domestic market.
The efforts of these manufactures have helped move passive building from a novelty to a force. The Phius+ Certification is now recognized by leading architects and builders, the U.S. Department of Energy, and state and municipal building code agencies across the United States and around the world. More than 7 million square feet of projects have been pre- or fully certified by Phius, with twice that in the certification pipeline.
We have built the foundation to make passive building the mainstream standard.
The Next Level
The Phius Technical Committee, a voluntary board of leading building scientists, sets — by a consensus process — technical standards for project and building component certification.
To date, the Technical Committee has informally worked hand-in-hand with the relatively small number of high-performance component manufacturers.
As the industry has matured and grown, Phius recognized the need to build a mechanism for interfacing with manufacturers. So, with the help of pioneering manufacturers, the IAC was founded.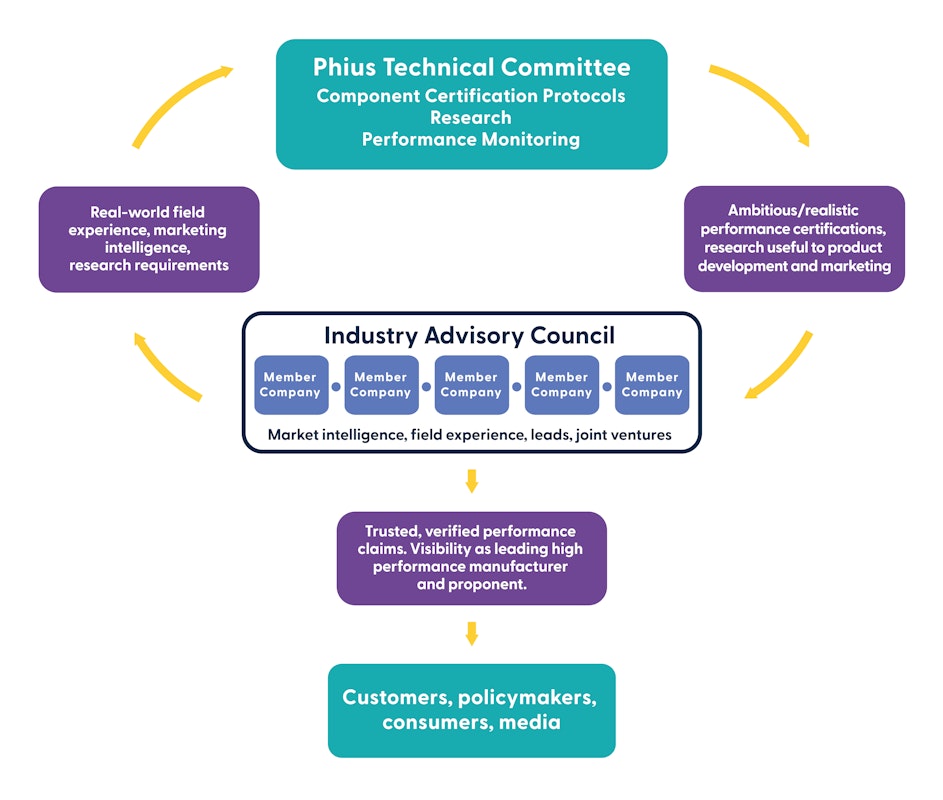 Strength in Numbers
IAC members gain access to the Phius Technical Committee and the Phius Board of Directors, which can help identify and fund research projects with the goal of advancing high-performance passive building products, assemblies, science and building energy codes.
As a member of the IAC, companies can bring real-world field and market experience to the Technical Committee. The input and funding from IAC members can help shape and execute research priorities to advance the high-performance building industry. The Phius Technical Committee needs that input to ensure that high-performance building products/assemblies are functional, practical, and cost-effective.
In collaboration with the IAC, the Phius Technical Committee generates credible research and publications that the industry can use for product development and marketing. Moving forward, the IAC will:

Enable the publishing of results of research projects in white papers and at PhiusCon (formerly North American Passive House Conference)
Integrate research findings into Phius+ standards, building certifications, and Phius training curricula
Inform Phius product certification and approval programs for a broad variety of products

In addition, IAC members share experience and information, and can explore possible areas of cooperation, such as joint ventures.
Finally, IAC members will be given prominent visibility in Phius and Phius Alliance communications events as high-performance building industry leaders.
The Phius IAC is seeking manufacturers of the following components and materials:
Air sealing systems
Monitoring & diagnostic equipment
Connectors & anchoring systems
Moisture vapor control barriers
Heat pumps/space conditioning
Ventilation
Hot water
Wall/roofing systems
Insulation
Windows, doors and day lighting
Lighting & appliances
To learn more about the IAC and how to become a member, contact:
Michael Franco, IAC Chairman
mfranco@phius.org